Description
Nivellator (or Nevellator) comprising spool, adjustable bubble level and angle indicator tension indicator. New. Wire and one end piece missing. Instructions for use missing.
Used to measure rise or fall over the ends of a specified length of a wire.
Web searches are often not clear as to the purpose of a nivellator, some descibe, quite erroneously (but with seeming confidence), it as a "WW2 Period Parachute Tester". Here are two references to its true purpose.
An article on the use of a nevellator is provided on page 14 in the Weekly Building Reporter and Real Estate Review edition of 23 May 1931 (published in Toronto, Canada). The article states:
"A NEW LEVELLING INSTRUMENT. We have received details of a novel instrument known as the "Nevellator," used for taking levels, which dispenses with the common straight-edge and spirit-level, and the expensive expert with his equipment. Its circular appearance somewhat resembles the ordinary measuring tape, and, like the latter, it can be carried in the pocket, thus eliminating all the usual inconveniences of tool carriage. Using it, workmen (minus professional aid) are enabled to prove the level over any distance up to 30 feet, and this distance can be extended up to 60 feet if so required by adding an ex-tension line and slightly increasing the tension. It is a simple and easily manipulated instrument, of solid, good-wearing construction. To use it, the line in the contrivance is run out, the ring at its end is attached to a nail or hook, driven into a post or wall, and the tension on the line is then applied by pulling the spring, as shown in the illustration here-with. There is no sag in the line, and the instrument accurately records the exact state of layers of brick or stone-work, indicating whether they are level, or how much they are out of level.
This "Nevellator," we learn, will not only prove the level of walling, but will accurately determine grades on a run of 30 feet to a degree of ascent or descent in levelling building sites, areas, foundations, drain and pipe trenches, fencing, road construction, roof work, and innumerable other purposes in every-day life, associated with the many and varied branches of the building trade. All interested persons should write for illustrated particulars to the sole agent, Mr. John Seggern, 25 Harbury Road, Birmingham, England."
To see the article and for a photograph showing its use click here.
The nivellator is also described in an Ahrend & Zoon of Amsterdam price list.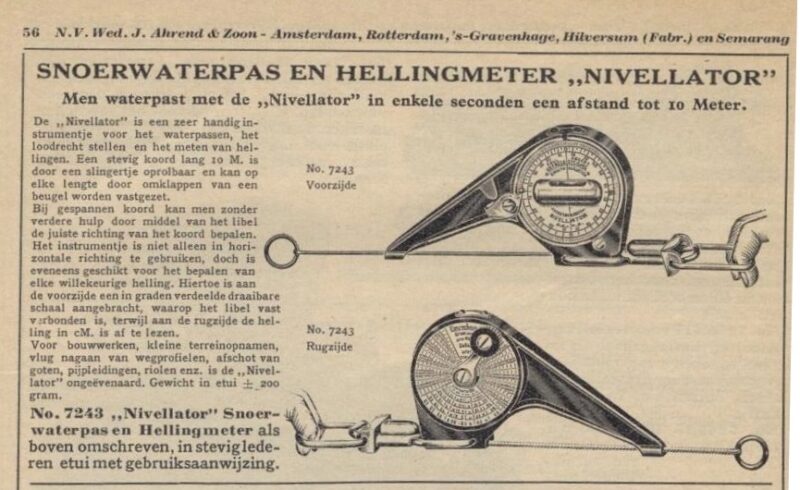 The following description is translated from Dutch.
Spirit level and inclinometer "Nivellator"
You can use the leveler to level a distance of up to 10 m in a few seconds
The "Nivellator" is a very handy little instrument for levelling, plumbing and levelling slopes. A sturdy cord as long as 20 m can be rolled up by a crank and can be fixed at any length by folding over a pin.
With a tensioned cord, the dial can be used to determine the correct direction of the cord without further assistance. The instrument can not only be used in a horizontal direction, but is also suitable for determining any inclination.
On the front is a rotatable scale divided into degrees, to which the [dragonfly] is firmly connected, while on the back the inclination in cm can be read.
For construction works, small terrain recordings, quick checking of road profiles, slopes of gutters, pipelines, sewers, etc, the "Nivellator" is unparalleled. Weight in case ± 200 grams.
No. 7243 "Nivellator" Lubricated spirit level and slope inclinometer as described above in sturdy leather pouch with user manual.
To see the original price list click here.